After much anticipation, construction to improve safety, functionality, and aesthetic of Tsartlip Boat Ramp begins this summer.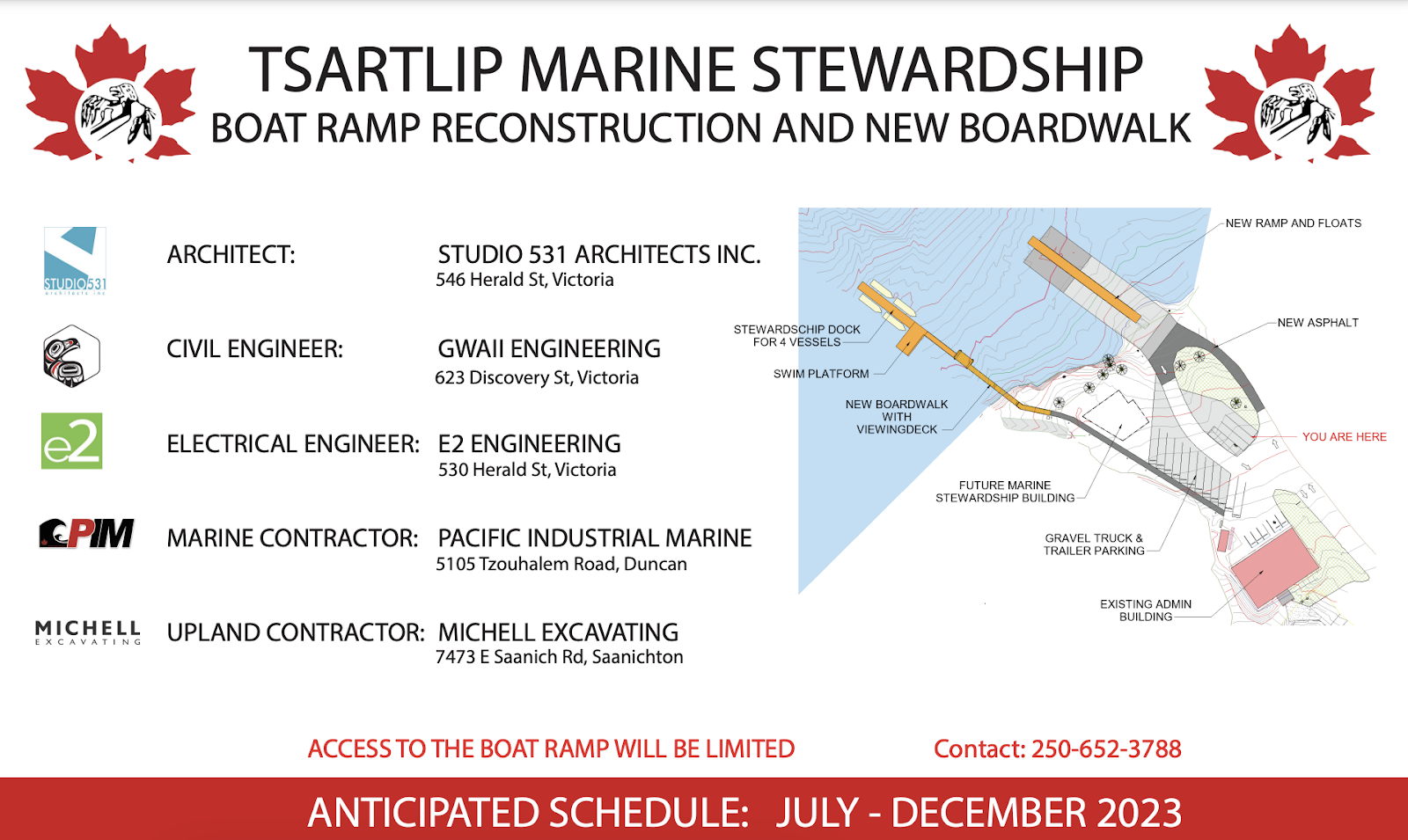 The Tsartlip Boat Ramp is a staple of the Tsartlip community, serving as a key economic driver and a community gathering place for over 50 years. However, the old Boat Ramp has be worn down over time, causing safety and functionality concerns.
Now, the Boat Ramp is getting a long-overdue makeover to help maximize its potential as a community resource.
The building process will begin on July 24th, 2023 and continue through November 2023. While the Boat Ramp will temporarily close for construction, the end result promises to be worth the wait.
The new Boat Ramp will feature a stewardship dock for four vessels, a swim platform, a new aluminum boardwalk with fiberglass planks and a viewing deck, a new Marine Stewardship building, a gravel parking surface for 15 trucks and trailers, new asphalt in damaged areas, new lighting, a rinsing and engine-flush area, and a new concrete ramp with wood floats and a fiberglass mesh decking. Additionally, all steel piles will be wrapped with a black sleeve made of high-density polyethylene.
The improvements will both aid the Marine Stewardship Program in its work monitoring the Salish Sea and ensure the Boat Ramp is a fun and functional resource for the entire community.
As Stewardship Director Will Morris shared in a recent social media post, "The days are numbered for the old boat ramp. New piles. New concrete. New floats. Paved walkway. Pier and floats for Tsartlip's work boats. Proper lighting. Safer and presentable. There is a recommendation that a Community Space be constructed for bdays and bbqs and such. And so much more."
This project is made possible thanks to abundant community engagement and critical impact assessments by Aquaparian Environmental Consulting Ltd and Millennia Research Limited Archaeological and Heritage Consulting. The project is in collaboration with Architect Studio 531 Architects Inc., Civil Engineer Gwaii Engineering, Electrical Engineer E2 Engineering, Marine Contractor Pacific Industrial Marine, and Upland Contractor Michell Excavating.
The forward-movement of this project is an exciting opportunity for the community. In Morris' words, "It will be a good thing for our families, community, safety personnel and visitors. Tsartlip Leadership and staff are working hard to improve for the needs of the community."
To stay up to date on these stories and others, sign up for our newsletter.