Youth Program of Activities for November: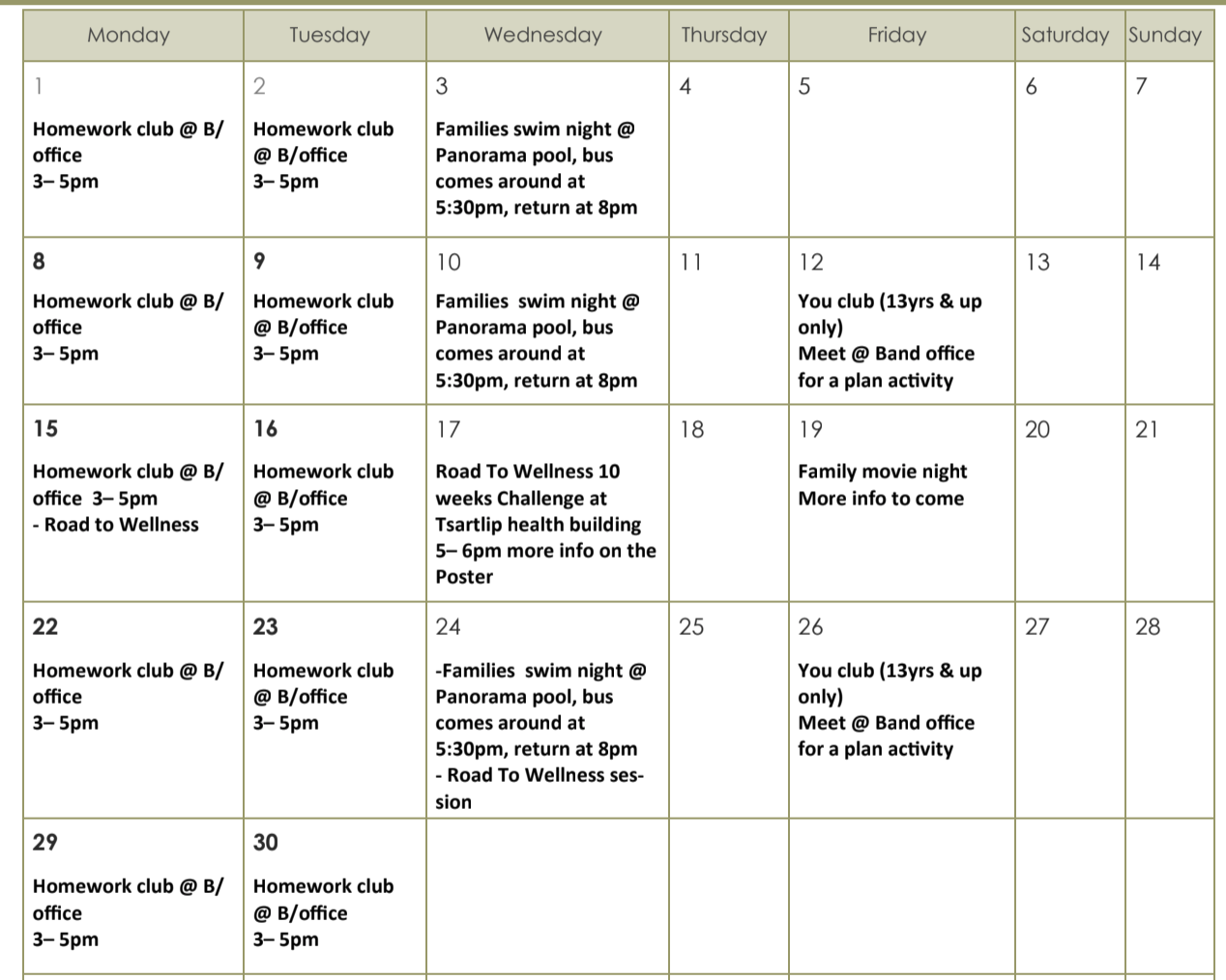 *** For safety! All participants are strongly recommended DO NOT attend to any of the activities if you are not feeling well!!
*Swim night- just a gentle reminder, parents or guardian are responsible to chaperone their child while in the pool, there will be an adult riding the bus with the kids and help to make sure everyone get back on the bus before heading home; Parents are also encouraged to ride the bus with their child. *Mask must be worn once you enter the facility and take it off when you are in the pool. There is no need for proof of vaccinations unless you are going to the weight room!
*Movie theatres now requires anyone is over 12yrs that enter the facility to have a proof of their double vaccinations and one piece of ID,  and a mask needs to be worn at all time!
*Road To Wellness– safety set up will be in place, encourage everyone to wear mask
*Homework club– there will be masks and sanitizer available on-site otherwise please feel free to bring your own mask!
ANY QUESTION PLS CONTACT Mua @ 250 652-3988 or muavae@tsartlip.com
MORE NEWS FROM TSARTLIP
Tsartlip First Nation
Tsartlip Construction Ltd (TCL) was recently created by Tsartlip First Nation to take advantage of contract opportunities in Tsartlip's traditional territory.
user
Tsartlip Election - Request for Mail-in Ballot Please find here the form to request a mail-in ballot for the upcoming election for Chief & Council being held December 06, 2021. Please [...]
Tsartlip First Nation
Together, we commit to upholding COVID-19 safety measures for ceremonies and gatherings. These include: 1. Ceremonies and gatherings will limit participation in alignment with current Provincial Public Health Guidelines. In the interest of community [...]