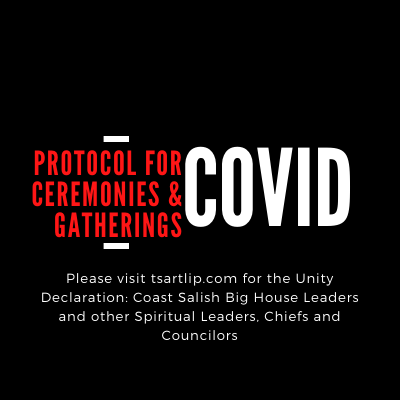 Together, we commit to upholding COVID-19 safety measures for ceremonies and gatherings.
These include:
1. Ceremonies and gatherings will limit participation in alignment with current Provincial Public Health
Guidelines. In the interest of community safety, all efforts will be made to keep participant numbers to a
minimum.
2. Owners or operators of the facility must feel confident that the organizer is aware and will follow all the
public health regulations.
3. Cultural and spiritual leaders will help encourage members and their families to safely practice culture or
spirituality during the pandemic
4. Handshakes may take place in a manner that minimizes physical contact (i.e. done prior to ceremony,
one designated person for distribution of pouches).
5. Cleaning and sanitization procedures will be followed before, during and after gatherings and ceremonies
(hand sanitizer will be made available and there will be routine cleaning of frequently touched areas).
6. Appropriate signage 2 (occupancy, hygiene, screening, etc.) will be placed at each gathering place with
safety procedures clearly stated.
7. All parties will promptly inform the Nation's Health staff and/or other designated staff of any known risks or
deficiencies that arise that could impact the safety of other members of the community.
We acknowledge that these measures are not forever, and are in place for the time being to protect our Elders,
families and communities through this time COVID-19 pandemic response.