Welcome STQWAL (Lucia Bartleman), Indigenous Patient Navigator.
The Indigenous Patient Navigator is a new and exciting role that was developed in response to the recommendations from the In Plain Sight report, a comprehensive report that outlined disparities in health care and recommendations to eliminate the racism experienced by Indigenous people in the BC Health Care System. 
Shown above: From the In Plain Sight Report. An image depicting the First Nations Perspective of Health and Wellness (FNHA)
Key objectives of this position :
 To develop and implement Indigenous, culturally safe services and tools that assist in improving the health of Indigenous patients and their families
To help facilitate communication of patient goals, including incorporation of Indigenous culture and traditions into health care plans by health care providers;
To provide improved awareness and understanding of community-based resources to support patients;
Ongoing evaluation of services to ensure improvements in access, sense of safety of patient and psychologically safe team-based work from the Indigenous Patient Navigator and Emergency Department team perspective.
Meet STQWAL, Lucia Bartleman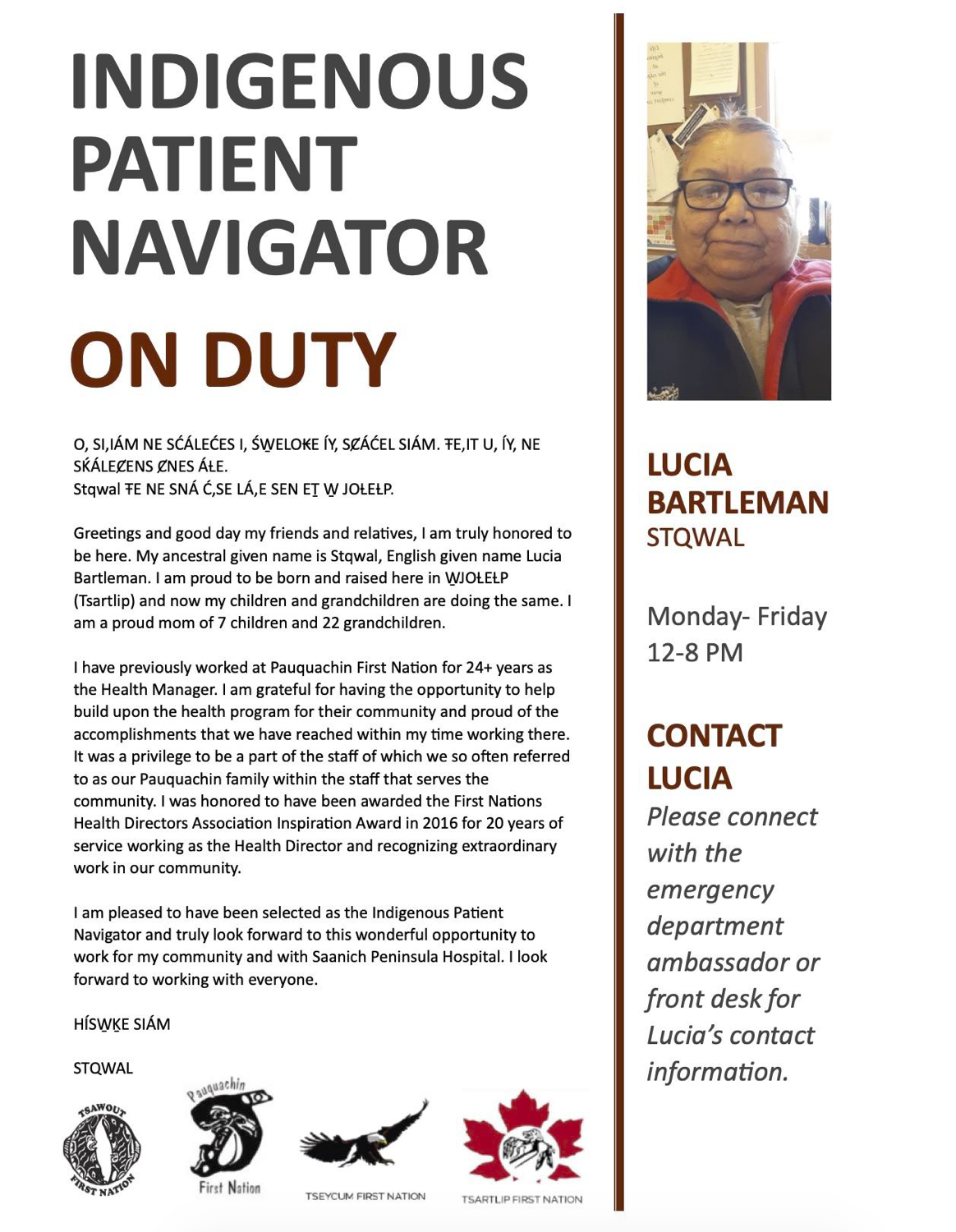 About the "In Plain Sight" Report
This report outlines the impact of systemic racism within the British Columbia health care system and brings to light the lived experiences of Indigenous people accessing health services.
This report provides insight into a number of concerning allegations against Indigenous people as well as a number of additional findings and subsequent recommendations.The problems identified in this report have significant impacts on Indigenous patients, women and health care workers. The findings contribute to inequitable health outcomes in all areas of health including the COVID-19 pandemic and overdose crisis.
MORE NEWS FROM TSARTLIP
user
Membership Grant Distribution Application 2021 APPLICATION DEADLINE: Direct Deposit Deadline: Dec 3 Cheque Deadline: Monday Dec13, 2021 Cheque pick up Wednesday Dec. 15, 2021 OVERVIEW The Tsartlip First Nation will [...]
Tsartlip First Nation
MISSING PERSON: Jenna George Missing - Juliana (Jenna) George - 19 years old. Last seen at Wendy's at 776 Bay street where she was scheduled to finish her shift at 1:30 am. [...]
Tsartlip First Nation
Admin and Chief and Council want community members to be alert and prepared for potential flooding Saturday evening and into early next week.  Environment Canada has issued a weather alert warning for heavy [...]